Legacy on Me Teasers – June 2023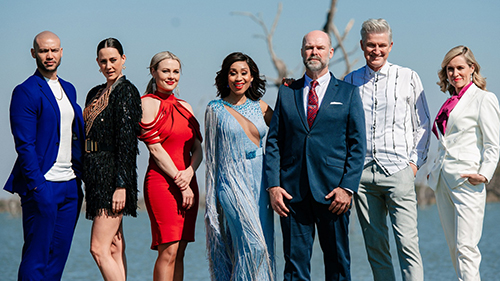 we are pleased to inform you about Legacy on Me Teasers -June 2023 read full details
Monday 1 May 2023
Episode 105

Suspicious minds
Elizabeth deals with the aftermath of Max discovering her plan to trick him about birth control. Sims isn't happy with what Brightside did to stay afloat. He thinks it's only the start of them compromising their morals.
Tuesday 2 May 2023
Episode 106
To have and to hold
Angelique pushes her agenda of Msizi and Dineo getting married without either of them being too suspicious of her motives. Robbie gets a worrying call from the Game Academy informing him of Ben's disappearance.
Sims' worst fears come true when the Mayor shows up unannounced, demanding more favors.
Wednesday 3 May 2023
Episode 107
Errand boys
Msizi's marriage proposal results in a shocking twist. Robbie and Cranston search for Ben, and make a horrifying discovery.
Thursday 4 May 2023
Episode 108
Dead end
Angelique lays her plans of regaining Legacy as Dineo and Msizi find themselves in a romantic deadlock. Robbie and Cranston go in search of missing Ben – is he alive or dead?
---
Monday 8 May 2023
Episode 109
Out in the cold
Angelique tries her best to patch things up with Dineo and Msizi, and tries every tactic to ensure Dineo accepts his proposal. Janet is frantic about Ben still being missing. Robbie and Cranston lead another search party to try and find him.
Sims and Stefan come up with a plan that they hope will solve their problems with the Mayor.
Tuesday 9 May 2023
Episode 110
Tears for fears
Dineo reveals her deep-seated fear and the reason she's scared to remarry. The chances of Robbie finding Ben unharmed grow slimmer by the minute. Willem warns Stefan that he's playing a very dangerous game.
Wednesday 10 May 2023
Episode 111
Angelique triumphant
Angelique's wedding plans come to fruition. Robbie is losing hope of ever finding Ben.
Thursday 11 May 2023
Episode 112
Missing person
The Hugos start to lose hope in their search for Ben. Msizi is determined to do whatever it takes to marry Dineo.
---
Monday 15 May 2023
Episode 113
Silver lining/dark cloud
Angelique is victorious, as the moment she's been waiting for comes to fruition. Robbie is in a predicament and decides to take matters into his own hands. Stefan is worried about Willem's wellbeing after the stressful period they've been through.
Tuesday 16 May 2023
Episode 114
Your big clever plan
A negotiation with Ben's kidnapper goes terribly wrong. A mysterious package for Dineo contains a shocking revelation.
Wednesday 17 May 2023
Episode 115
And the corner office goes to…?
Angelique seeks support for her motion to replace Dineo as CEO and the board meets to vote. Robbie fears the kidnappers have gone underground, and he seeks the help of Sefako to track them down. Charmaine and Stefan's worry mounts as Willem displays more signs of forgetfulness.
Thursday 18 May 2023
Episode 116
From bad to worse
Robbie prepares to exchange the ransom for Ben… but Sefako is starting to think that something is off… While Angelique gloats at her victory, Msizi tries to convince Dineo to start a new company with him. But Dineo has vengeance in mind…
Willem continues to deteriorate, and Stefan and Charmaine start to fear the worst.
---
Monday 22 May 2023
Episode 117
Love's labour's lost
Dineo starts planning to fight back against Angelique. Sefako is suspicious about details of Robbie's kidnapping. Willem refuses Charmaine's and Stefan's request for him to seek medical help.
Tuesday 23 May 2023
Episode 118
Between a rock (and a hard place)
The Hugo family do whatever they can to raise the R5 million in ransom money for Ben. Dineo is determined to fight for her job and career back, even if it means possibly losing Msizi. Charmaine and Stefan insist that Willem sees a doctor.
Wednesday 24 May 2023
Episode 119
To do or die
Angelique an Dineo go head to head in court. Each woman proves to be a battle axe in her own right. Stefan And Charmaine face the prospect of watching their father get ravaged by a disease that will leave them both unrecognisable to him.
Sefako goes out on a limb to help Ben secure ransom money. Meanwhile, Robbie communicates with Ben's kidnappers and gets proof of life.
Thursday 25 May 2023
Episode 120
Hard choices
Dineo finds herself between a rock and a hard place when Msizi gives her an ultimatum. The Potgieters find it more difficult to deal with the spanner that's been thrown into their lives. Felicity returns.
---
Monday 29 May 2023
Episode 121
Better off alone
Charmaine and Stefan do their best to rally as Willem struggles to keep his grip on reality. As Dineo struggles to mount a winning legal defence against Angelique's onslaught, she welcomes home an unexpected ally…
Tuesday 30 May 2023
Episode 122
That which remains
Robbie and Janet get news about Ben, what they will do with that news remains to be seen. Felicity feels she can negotiate a compromise, Angelique feels otherwise. Willem has all his tests done, but to no avail.
Wednesday 31 May 2023
Episode 123
Opposing forces of nature
Willem gets his MRI results back and is furious with his family about meddling in his affairs. Felicity manages to convince Dineo and Angelique to accept her proposal and discuss a way foward. Robbie and Janet struggle to come to terms with Ben's death.
---
Premiere episodes of Legacy air on Me from Mondays to Thursdays at 18h20.